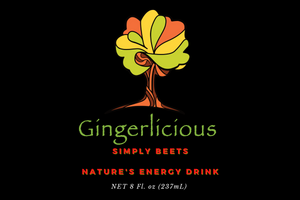 Gingerlicious - Simply Beets Drink
Sale price Price $40.00 Regular price $35.00 Unit price / per
Optimum health is a priceless jewel. What is your health worth to you? Try our delicious, healthy herbal spice blend in our nutritionally fermented Beet Root drink packed with anti inflammatory compounds, antioxidants, minerals, vitamins, and micro-nutrients.
Our base ingredients consist of apple cider vinegar, ginger, lemon, lime, agave, tumeric, cinnamon, and clove. 
This all natural, plant based beverage is both adaptogenic and thermogenic, meaning it activates cellular repair based on nutritional need and increases metabolism and internal heat to burn off cellular impurities. Also, Simply Beets increases nitric oxide release in the body, boosts immunity, endurance and stamina by at least 33%. Further, it improves Probiotic digestive health, nutrient absorption, and bio-availability. Physically active customers enjoy the health invigorating benefits derived when drinking this delicious beverage before and after their workouts, or any strenuous activity.